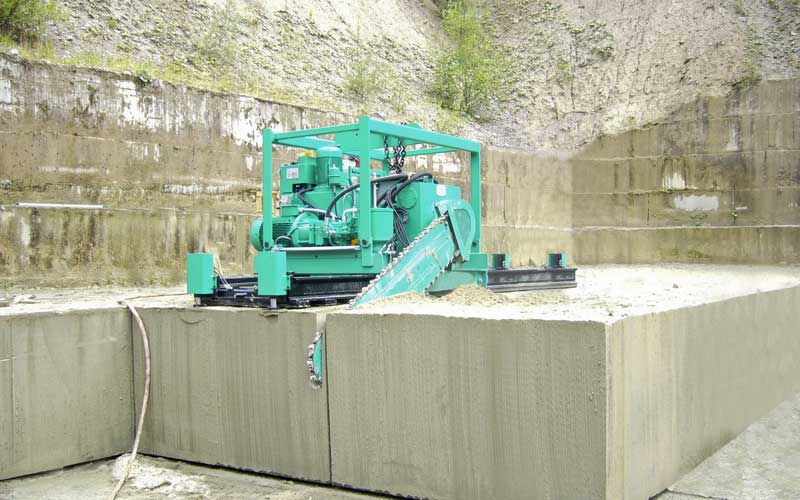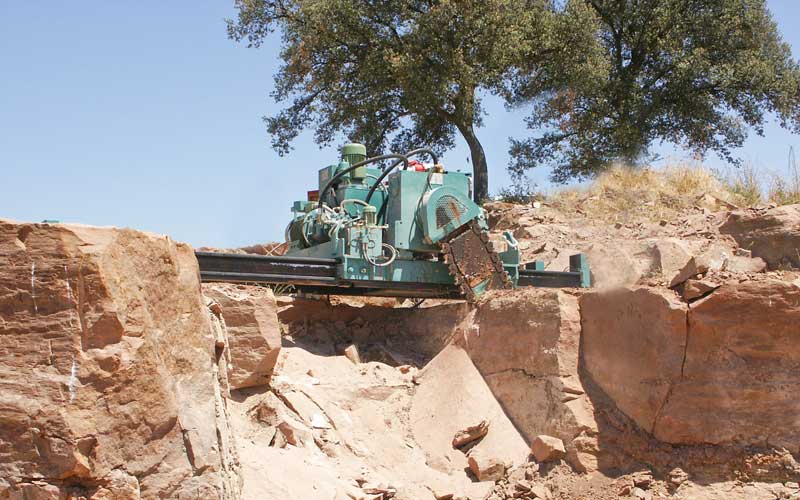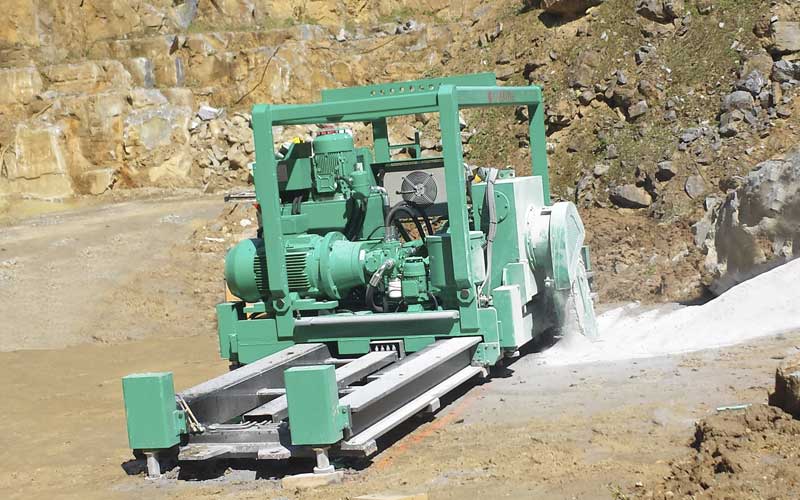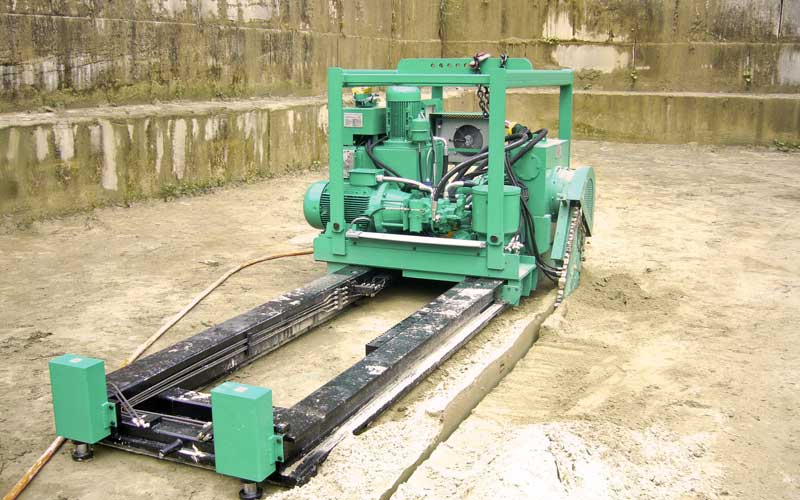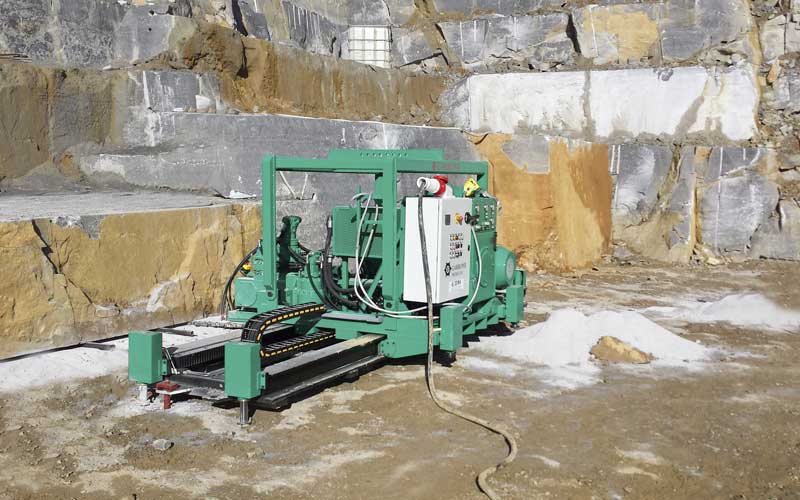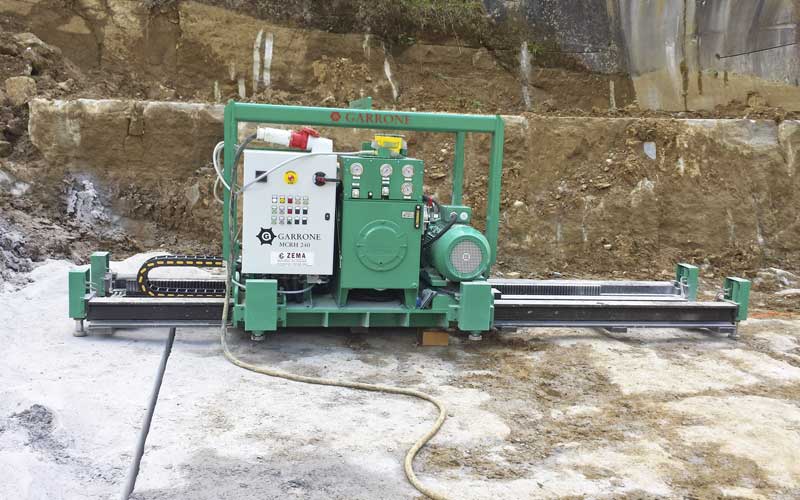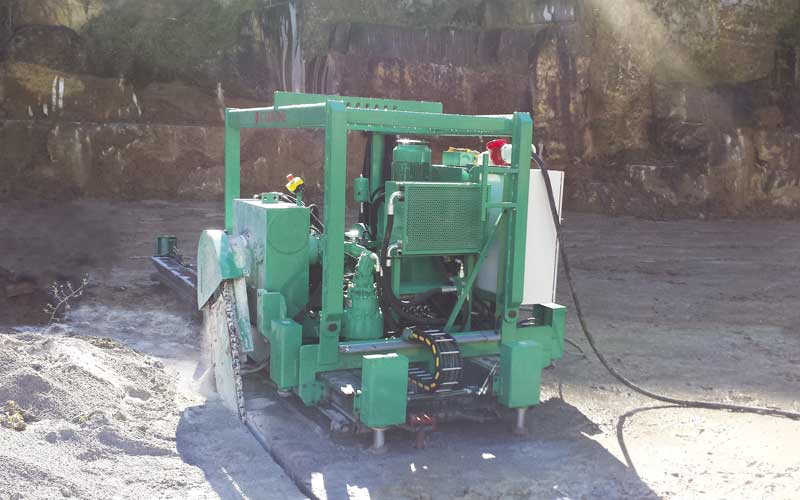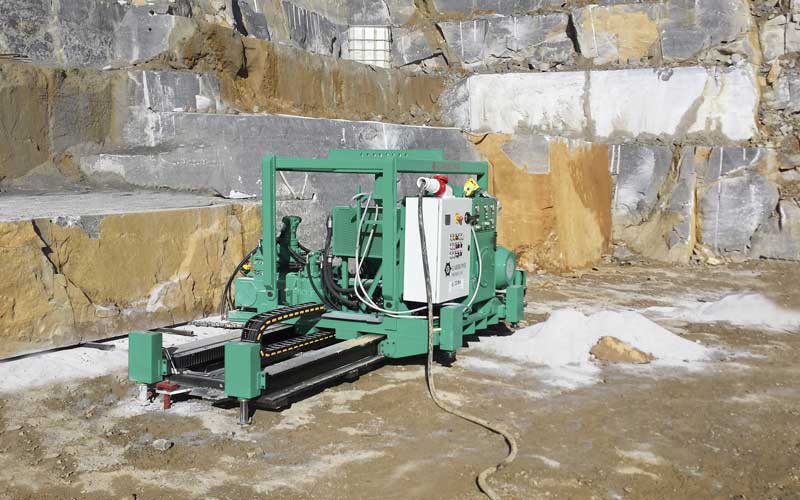 M.C.R.H. 240
This is designed for extracting marble, sandstone, and travertine in open cast quarries.
This machine can make both vertical and horizontal cuts to a maximum depth of 2 metres.
The chain used for cutting can be fitted with hard metal or PCD cutting tools, to suit the various types of stone.
The M.C.R.H. 240 is made up of a sliding block (carriage) on a single track 5 metres long, with 4 hydraulic stabilisers at the four corners of the track that are used to level the machine on the quarry floor.
A specific feature that distinguishes this machine from other machines is that it has a device under the carriage that allows the M.C.R.H. 240 to move the track automatically, without the help of lifting equipment.
A set of gears is fitted on the sliding block that has an arm and chain for cutting, and this can be rotated through 360°.
Two different types of chains and arms that have been developed based on our 30 years experience can be fitted on the M.C.R.H. 240, making it possible to cut materials ranging from travertine to marble.
The machine uses a hydraulic system that is able to ensure optimum performance, while providing maximum safety and reliability.
The hydraulic pump that drives the chain has a variable flow rate and allows the chain speed to be chosen based on the hardness of the stone.
The oil in the M.C.R.H. 240 is cooled using an air / oil heat exchanger, which means that the machine can also be used at high temperatures.
The M.C.R.H. 240 has a pushbutton panel that contains all the machine's controls, allowing the operator to work more freely and to stay a safe distance from the rock face.
This machine is very popular due to its flexibility and ease of use.
Technical data
---
Machine Weight, including Arm and Chain: 5000 Kg;&Nbsp;
Installed Power: 36 KW;
Hydraulic Tank Capacity: 180 Lt;
Working Speed: 0 – 30 Cm/Min;
Cutting Arm Rotation: 360&Deg;;
Chain Speed: 0-0,9 M/Sec;
Cut Width: 42 Mm;
Max Working Cutting Depth: 2 Mts;