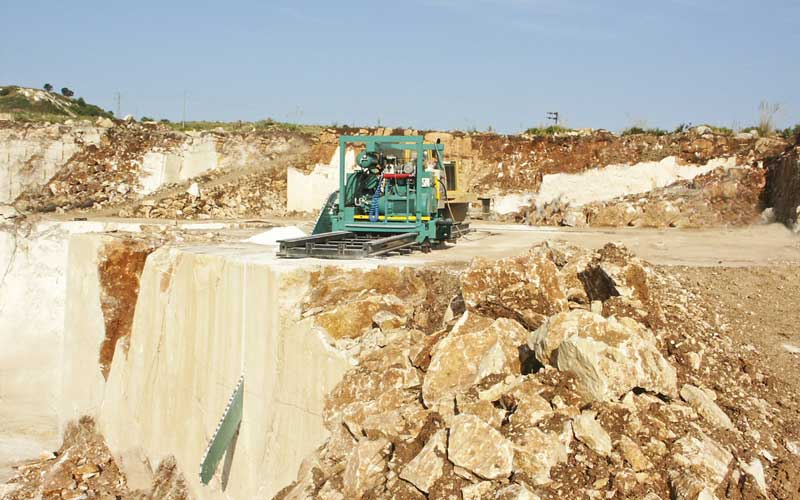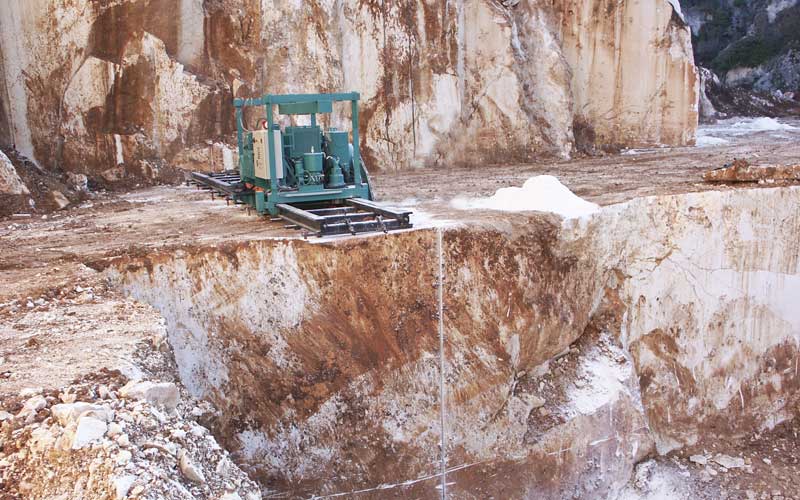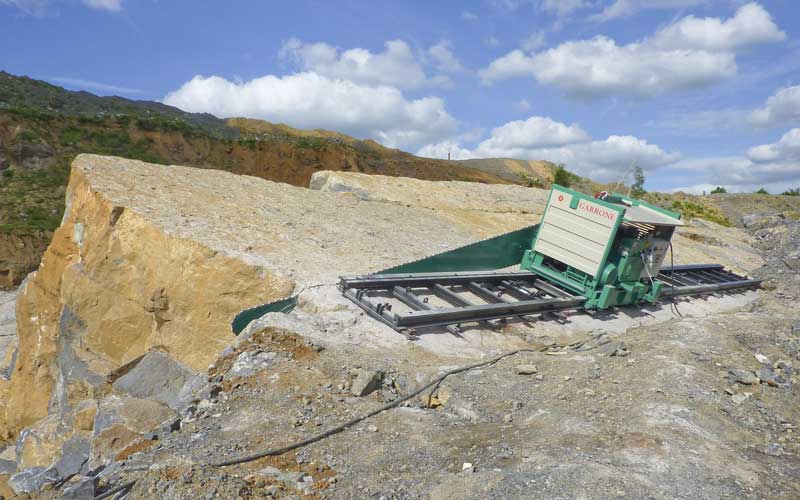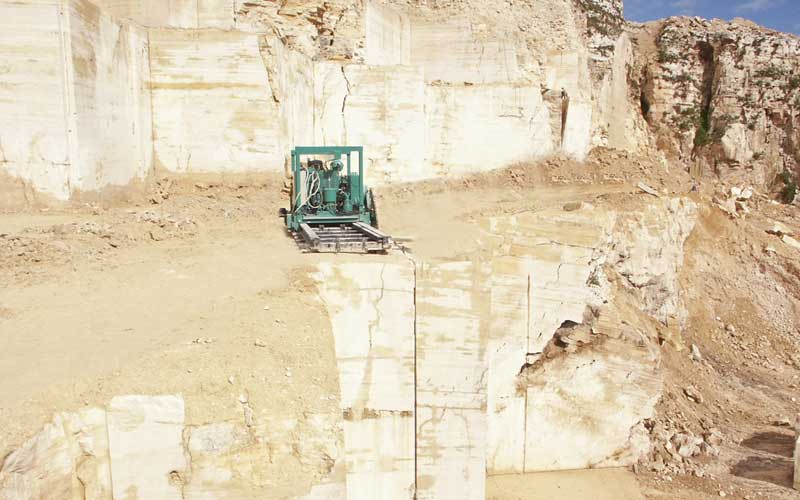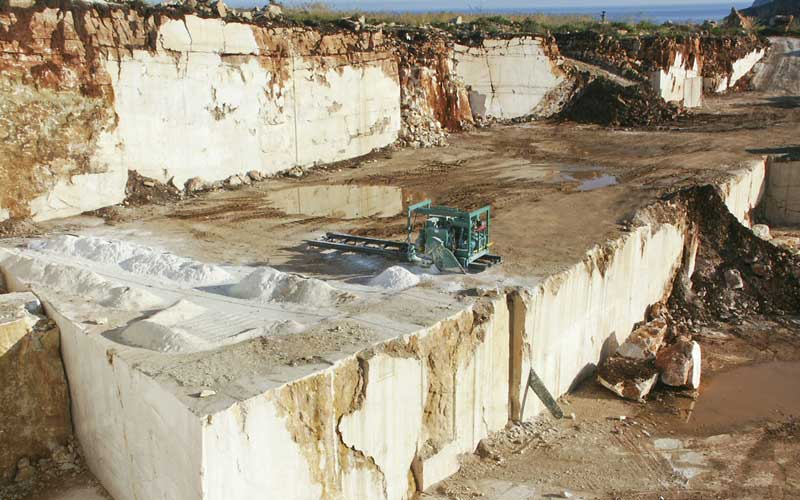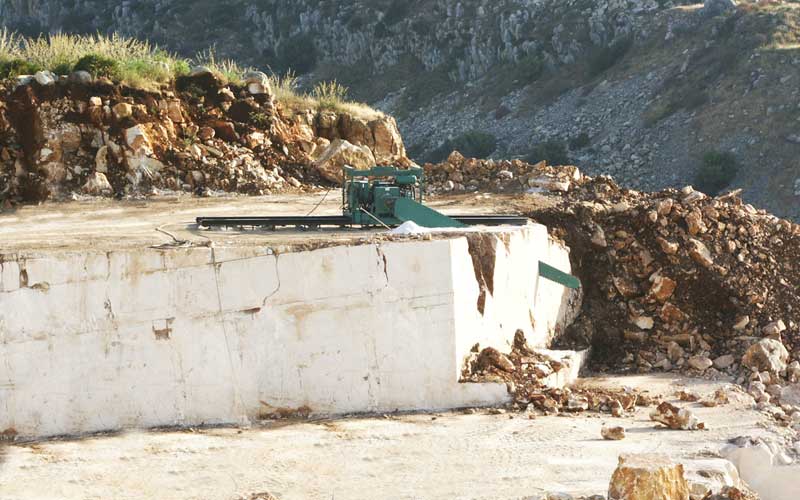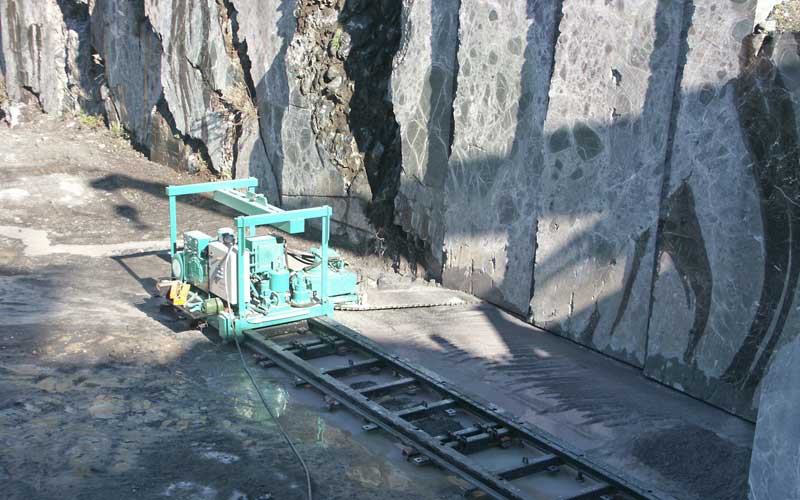 M.C.R.H. 740
The M.C.R.H. 740 is designed to extract marble and other stone in open cast quarries and it can make vertical and horizontal cuts.  Maximum depth of vertical ctu is 7,40 mts.
This machine is made up of an oil bath gear unit that makes it possible to rotate the cutting blade through 360°.  This unit is mounted on a carriage that uses a wheel and bearing system to move along a sturdy track made up in 3 sections for a total length of 12 metres.  These can be repositioned in front of one another to allow the M.C.R.H. 740 to make long cuts without having to stop.
Four stabiliser cylinders are located at the corners of the sliding block that allow the machine to be levelled quickly and that make it possible to move the track without the help of lifting equipment.
This chainsaw has a hydraulic system that is able to ensure maximum reliability, due to the fact that it allows the chain speed to be varied, power adjustment using maximum pressure valves in the hydraulic system, a cutting speed adjustment to suit the hardness of the stone being cut, and fast movement for moving the machine around when it is not cutting.
The hydraulic oil is cooled by means of an ""oil / air"" heat exchanger.
The arm and chain are lubricated by a multi-line grease pump.
The chain is made of specially treated steel and is made up of symmetrical pieces that are easy to assemble.  Hard metal or PCD inserts can be used for the chain to suit the type of stone to be cut.
A hydraulic cylinder is used to tension the chain on the M.C.R.H. 740.
The arm is also made of special high-strength steel, while the chain guides are made up of special treated steel and are interchangeable.
The M.C.R.H. 740 has a pushbutton panel that contains all the machine's controls, allowing the operator to work more freely and to stay a safe distance from the rock face.
The M.C.R.H. 740 is lifted by a specific structure attached to the carriage that makes it possible to move it in complete safety, with the arm in any position.
Optional Extras:
The M.C.R.H. 740 can be fitted with various optional extras:
Dust extractor that makes it possible to remove the dust coming out of vertical cuts in order to keep them as clean as possible.
Radio control that allows the operator to move around the machine without any problems and in complete safety.
TECHNICAL DATA
---
Machine Weight Including One Rail 4 Mt Plus Arm and Chain 7.40 Mt: Kg 10.000;
Total Machine Weight With 12 Mt Rails: Kg 14.000;
Installed Power: Kw 63;
Hydraulic Tank Capacity: Lt 240;
Working Speed: 0 – 20 Cm/Min;
Cutting Arm Rotation: 360°
Chain Speed: 1,8 M/Sec;
Cutting Width: Mm 42;
Working Cutting Depth: Min; M 2 – Max M 7,40.