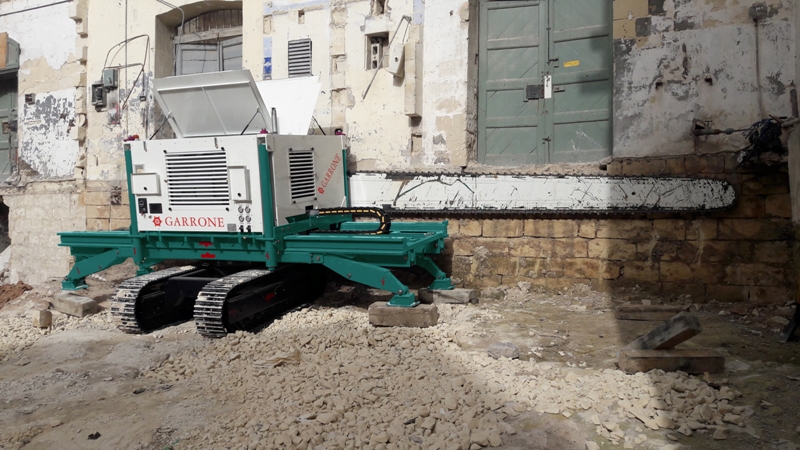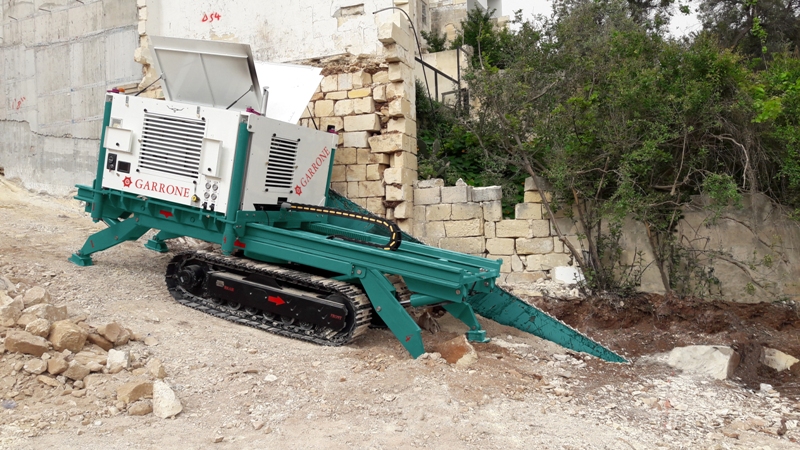 M.C.R.H. 340 SRD TRACK
The M.C.R.H. 340-SR-D-TRACK chain saw machine is designed for the excavation of marble and sandstone in open quarries, where he can create vertical cuts for a maximum depth of 4,40 meters.
This machine is composed of a gear set in an oil bath that allows the rotation of the cutting blade of 360 °; this unit is placed on a cart that, due to a system of wheels and bearings, translates on a robust single track of 6 meters of length.
At the corners of the rail, are positioned four-cylinder stabilizers, this permit to levelling the machine on work surface.
Further four cylinder stabilizers are positioned on the corners of the sliding block and allow to lift  the MCRH 340-SR-D-TRACK and translate the rail to reposition it and continue the cut without lifting equipment.
It is a self-propelled machine mounted on a crawler chassis which is equipped with a
double speed command in order to ensure accuracy of positioning and speed when
moving from one area to another in the quarry.
Between the crawler and the machine set, a fifth wheel is interposed. This allows 360° rotation and lateral movements of MCRH 340-SR-D TRACK which are useful for maneuvering in narrow spaces
The M.C.R.H. 340-SR-D-TRACK is equipped with a radio control which brings together all the functions of the machine and allows the operator to act with more freedom, and keeping him at a safe distance.
The chain saw machine uses an hydraulic system capable of ensuring maximum reliability, due to the possibility of varying the revolutions of the chain, a maximum power regulation by valves on the hydraulic system pressure, a feed adjustment of cutting according to the hardness of the stone and rapid advancements for unloden movements.
The MCRH 340-SR-D-TRACK is equipped with a PERKINS soundproof diesel engine. This engine is connected with an hydraulic pump. The machine is equipped with a 160 liters diesel fuel tank. The motor works with  24V DC for operation of the solenoid valves necessary to move the machine.
Hydraulic oil cooling by heat exchanger "oil / air" to ensure the optimal level of oil temperature.
TECHNICAL DATA
---
Installed power: 75 Kw
Hydraulic oil tank capacity 350 lt
Grease pump tank capacity 20 kg.
Fuel tank capacity 150 lt.
Arm rotation 360 °
Max cutting depth  4,40 m
Cutting width 42 mm
Working speed 0-20 cm / min
Chain speed 0-1.8 mt / sec.
Arm swinging stroke 300 mm
Gradeability 33%
Total weight machine with 4,40 mt. arm and chain  Kg.18.000